Coco di Mama has collaborated with THIS™, the creators of the world's most realistic meat alternatives, to launch a plant-based bacon sandwich that tastes, looks and has the texture of actual bacon sandwiches – and customers can't tell the difference!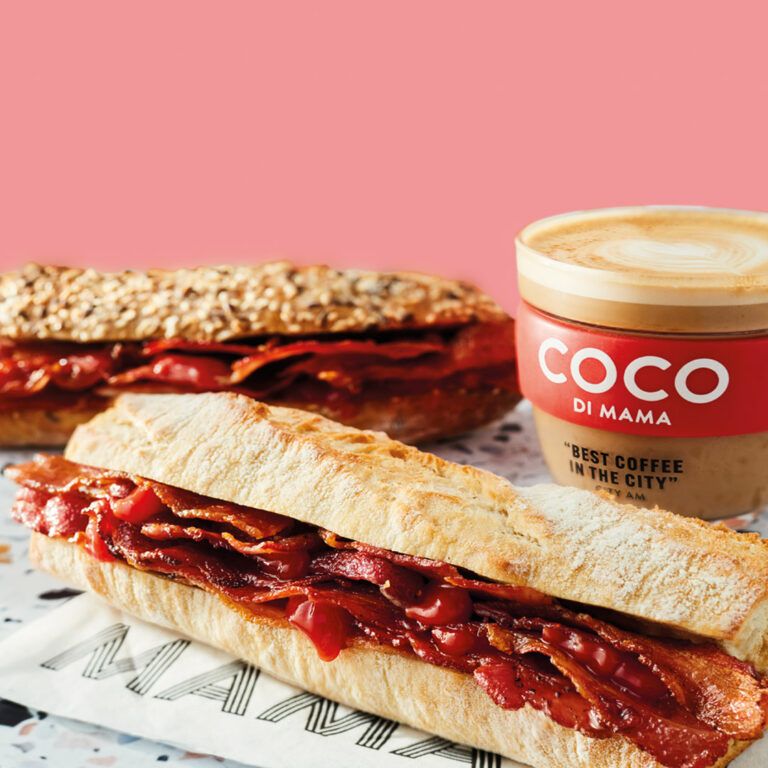 EVERYONE REMEMBERS THEIR FIRST
The first-to-market Vegan Bacon roll forms a part of Coco di Mama's wider Autumn campaign launch – which is the biggest menu change that the brand has ever launched with 70 menu changes across their breakfast, lunch and impulse occasions.
The objective is to build on the brand's premium Italian credentials with hero seasonal specials, including the Low & Slow Beef Brisket & Chianti Ragu which will be available daily, The Truffle Maker (an indulgent pork & truffle pasta special), and a classic Aubergine Parmigiana which is homemade at each site every day.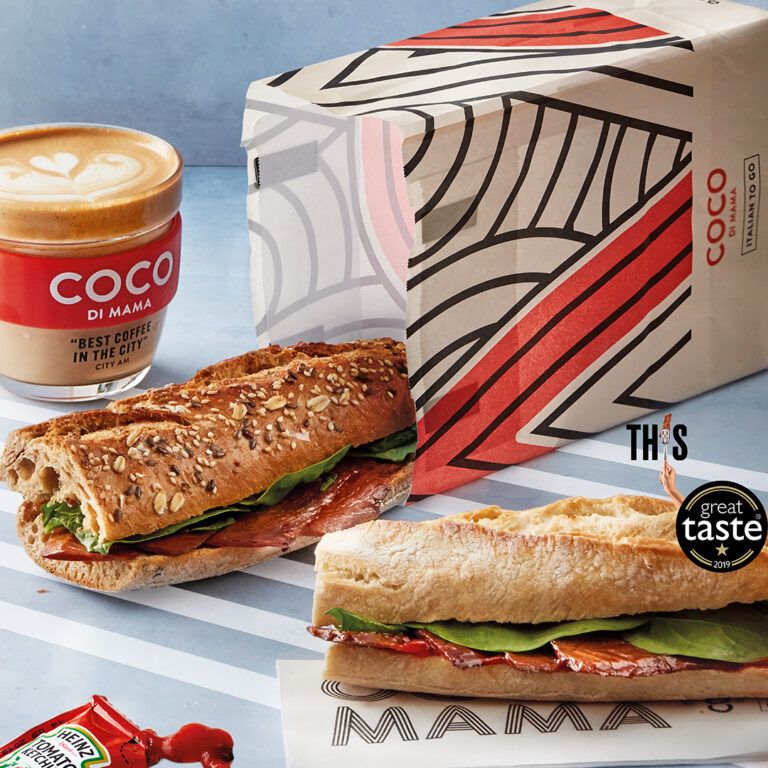 THIS™ vs THAT
THIS Isnt Bacon serves as an all-round perfect alternative for meat eaters, meat-reducers, vegans and also those with dietary restrictions due to religious beliefs.
Schesche, 42, who can't eat pork for religious reasons says: "I have never been able to eat bacon due to my religious beliefs, so THIS™ is crazy. THIS™ is just what I imagine bacon to taste like – smells the same and looks the same".
Dr Magda Robinson – a UK trained medical doctor – also confirms that "The THIS™ Isn't Bacon sandwich is nutritionally proven to be better for a hangover than real bacon sandwich. The nutrition is vastly superior to bacon – I'm especially impressed at the extremely low levels of fat and saturated fat and the much lower levels of salt. The high protein content makes it very filling. Being nitrite and nitrate-free means that it won't increase the risk of bowel and stomach cancer like processed meat does: Bacon is now a Group 1 carcinogen (known to cause cancer). The nitrites and nitrates of processed meat are broken down into N-nitroso compounds which damage the bowel cells and cause cancer."
COCO-APPROVED CARBS
We're so excited to be the first UK brand to serve the THIS Isn't Bacon sandwich, which not only taste GREAT but is also better for your hangover, better for your health and better for the environment. At Coco di Mama, we're already known for our great breakfast baguettes, so adding a vegan option makes complete sense. Our plant-friendly customers told us that the thing they miss the most is the 'dirty' bacon…and now they can have it!".
-Sara McCraight, Head of Brand at Coco di Mama
CUSTOMER-APPROVED CARBS
THIS™ Isn't Bacon is so realistic, the team at THIS™ managed to convince 25 food critics and food bloggers that they were eating real meat. Watch the video here, or keep scrolling for some honest Coco customer feedback
Georgina – a keen Coco di Mama gives her stamp of approval: "THIS™ is a game changer – there's not any other 'bacon' sandwiches out there that are vegan and this is so realistic. I think meat eaters will be really impressed – I think it's going to be one of those alternatives where they can't tell the difference. It's nice to have an actual roll that tastes meaty when you're hungover!" 
And Sandra, another carb-loving customer shares the same opinion:
"So impressive. It's what I remember bacon to taste like – fatty and salty. Delicious!"
Need convincing?
Winner of Great Taste Award 2019 – one judge said 'THIS™ is "like methadone for ex-bacon loving vegetarians'"
Surprisingly low calorie at 295 kcals per sandwich, compared to their regular bacon sandwich at 492kcals
Ridiculously high in protein – 12g and 21% of RDI for men. THIS™ packs more protein than: lentils, tofu, seitan, tempeh, most actual cuts of meat, and pretty much all vegetables
Nitrate-free (nitrates are in pork-based bacon and can cause cancer)
Fortified with Iron & Vitamin B12
We'll leave this here
All ingredients are sustainably sourced
Antibiotic-free and GMO-free
Longer shelf-life helps reduce food waste
Minimal CO2 emissions through production vs meat – beef produces 50kg of CO2 emissions and pork produces 13.3kg per kilo of food, while THIS produces 1.2kg.
Uses significantly less water, standing at 121 litres per kg, compared to 418 litres for beef and 1782 litres for pork
Coco di Mama will customise your Vegan Bacon sandwich with freshly baked white or multigrain sourdough baguette and your choice of Ketchup or HP brown sauce.