Some might say brain food has to be plain and simple.
We're thinking white fish, black coffee, nuts…or even broccoli! But who said it has to be that boring? Our brain food probably looks a lil' different to what you might have in mind, because pasta is not only good for the soul, but also great for refueling mind and body – and of course it's goddamn delicious!
Especially when combined with a minor hangover..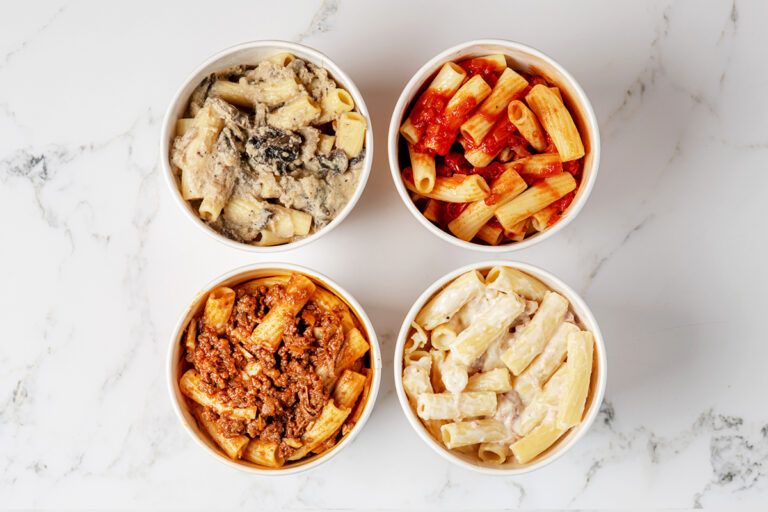 KEEP CALM AND CARB UP
Exams can be tough, we get it. Between the all–nighters, the coursework hand-ins, the hours spent in the library contemplating why the guy in the room next door chews so loudly, debating how many pens you should take to your exams, fuelling your body with the good stuff ends up at the bottom of the list. 
Not to worry though, we are here for you as the perfect food solution. 
As the "masters of fast pasta" (Evening Standard), we deliver award–winning pasta pots straight to your dorm door ready for you to indulge in. Budgets can be tight when being a student, but from as little as £5.50 you can enjoy a range of meal deals, which include an array of pasta, garlic bread, sweet treats and lots more to indulge in. This is your sign to stop wasting precious energy on cooking and more on socialising/revising, if you must…  
ALL THE TOP(PINGS)
Pimp up your pasta with your choice of gluten-free, wholewheat or regular pasta. Pick from 8 different sauces and 10 different toppings to create the meal of your dreams. Sure, 81 combinations may seem overwhelming, but thank us later when you're new favourite rigatoni pasta is topped with 2 different cheeses, olives, prosciutto crisps and truffle oil!  
So, whether you're feeling a 12hr Beef Ragu with cheese, chilli flakes and prosciutto crisps or just a classic Vegan Supergreen Pesto, we have an array of tasty options for you to get stuck into.