COCO CARES
At Coco di Mama, we're committed to improving our environmental sustainability and having a positive impact on the communities in which our employees and customers live and work.
The four main areas we focus on are: Reducing waste; Environmentally responsible menu & supply chain; Our people: and Charitable partnerships.
As a food-to-go brand, we understand that the biggest opportunity is to reduce the amount of waste created, and especially, stamping out those pesky single-use plastics.
Some of the ways we're reducing our waste include the following: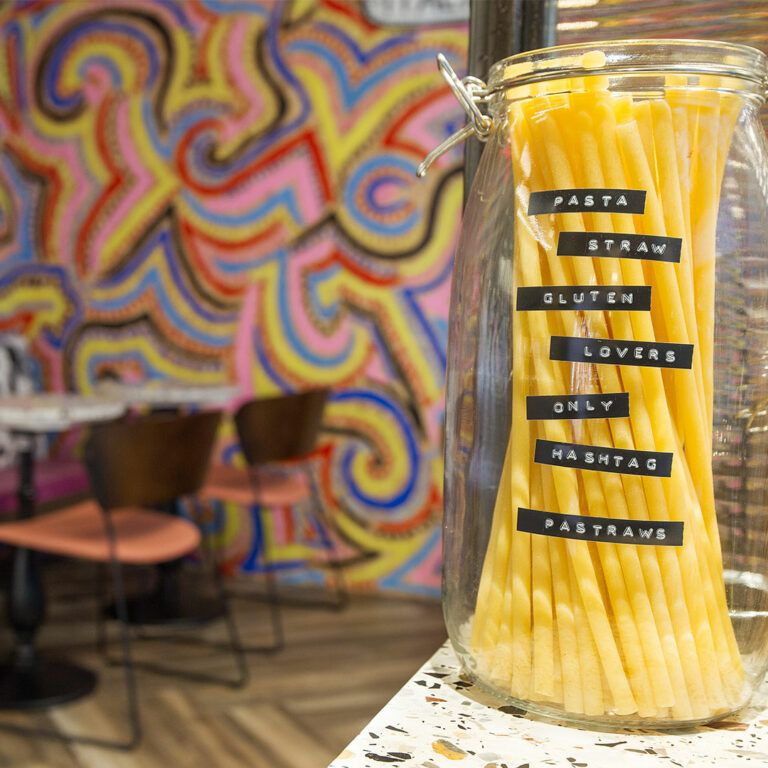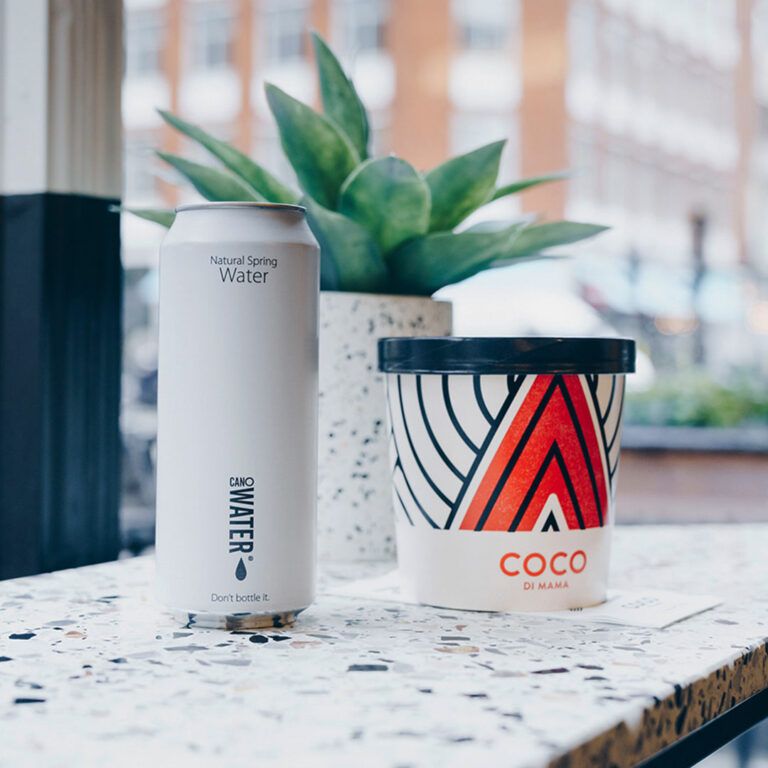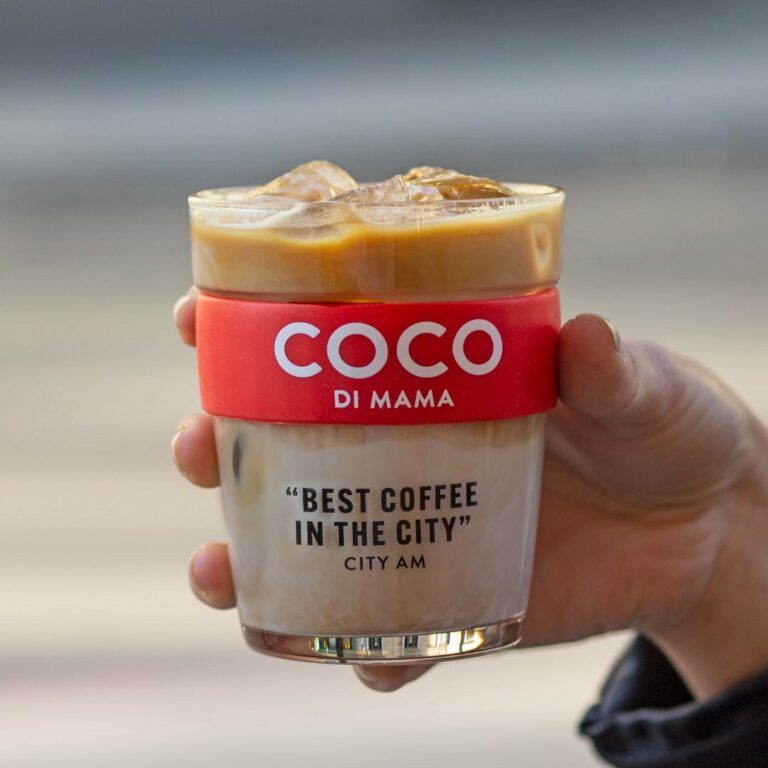 REUSE REVOLUTION
No more plastic water bottles! We stock CANOwater to offer recycled, recyclable and sealable cans of spring water, as well as BottleUp, for reusable water bottles made entirely from sugarcane.
50p off with your own reusable drinks cup.
Free water refill stations in stores so you don't have to buy buy bottled water.
We sell reusable Keep Cups at not-for-profit prices and each purchase comes with a free coffee. A no brainer really?!
Chilly's bottles for staff, so that they can also be eco-friendly outside of work.
Option of crockery to all our coffee customers in-store, instead of takeaway cups.
PLANET OVER PLASTIC
Our coffee cups and pasta pots are 100% recyclable.
85% of all our packaging lines are either recyclable, compostable or biodegradable.
Since 2018, we've switched to Pasta Straws, which are completely compostable (and don't taste of pasta, we promise) – helping to reduce 125,000 single-use plastic straws each year.
Moved all our salad packaging from plastic to pulp based material, with the base now being completely compostable.
We replaced single-use plastic cutlery with 100% compostable cutlery, reducing 300,000 pieces of single-use plastic each year.
OUR future PLANS
 We aim to make 100% of our packaging lines recyclable or biodegradable.
 Encourage at least 30% of our coffee customers to use reusable cups
 New initiatives to help reduce waste and encourage our customers to reuse reuse reuse.
 Find a food waste partner for every store
We are pro plant power!
We are delighted to offer a wide range of vegetarian and vegan options on our menu, all of which are helping to reduce the amount of CO2 emissions and water consumption compared to animal products.
We have become well known for the 'UK's first vegan bacon sandwich'.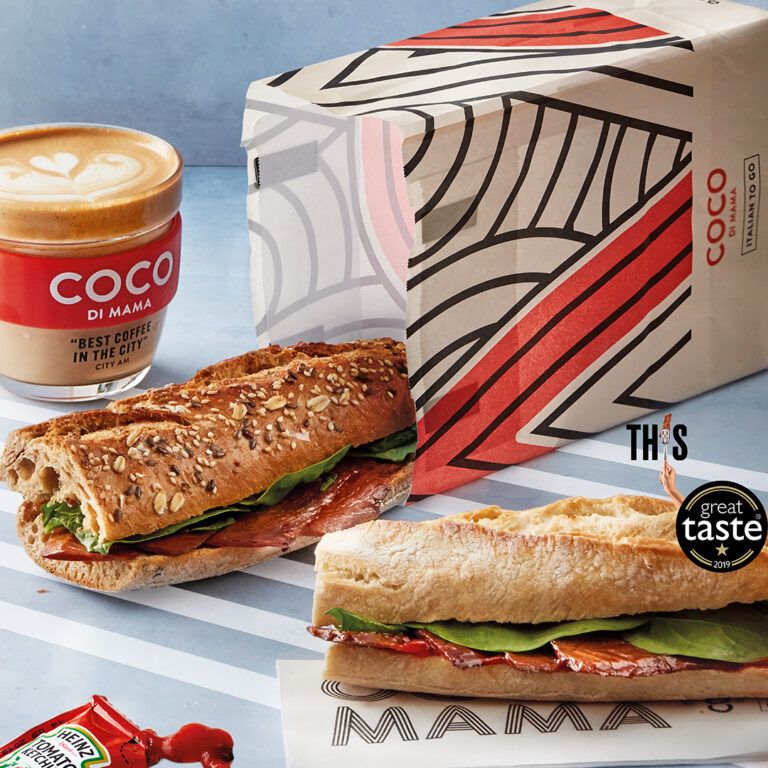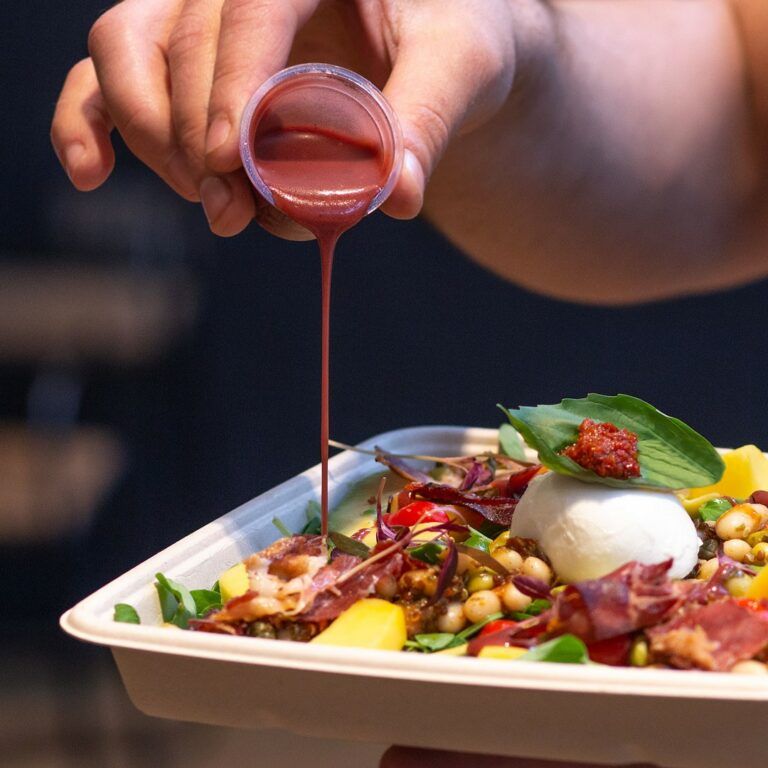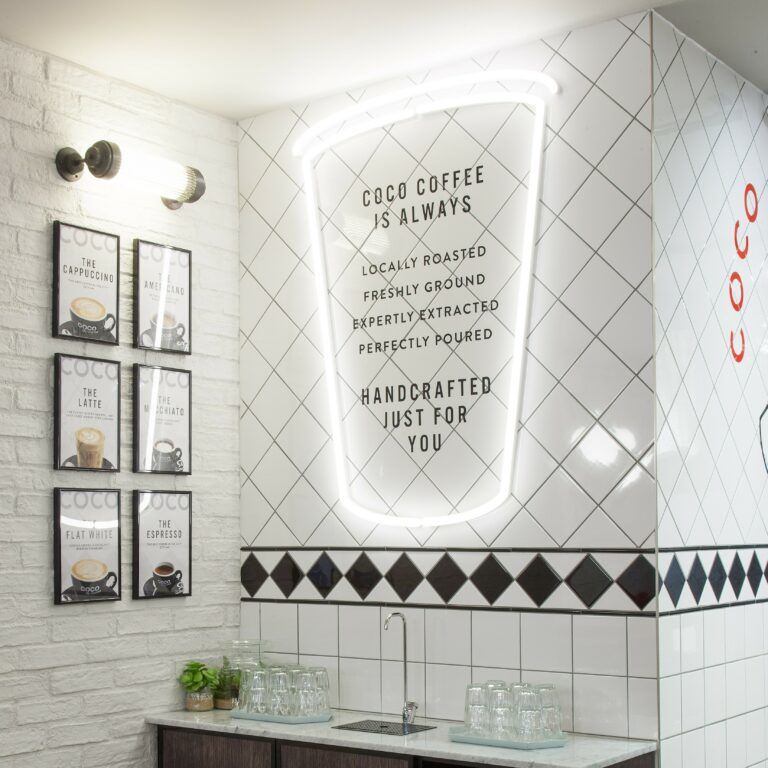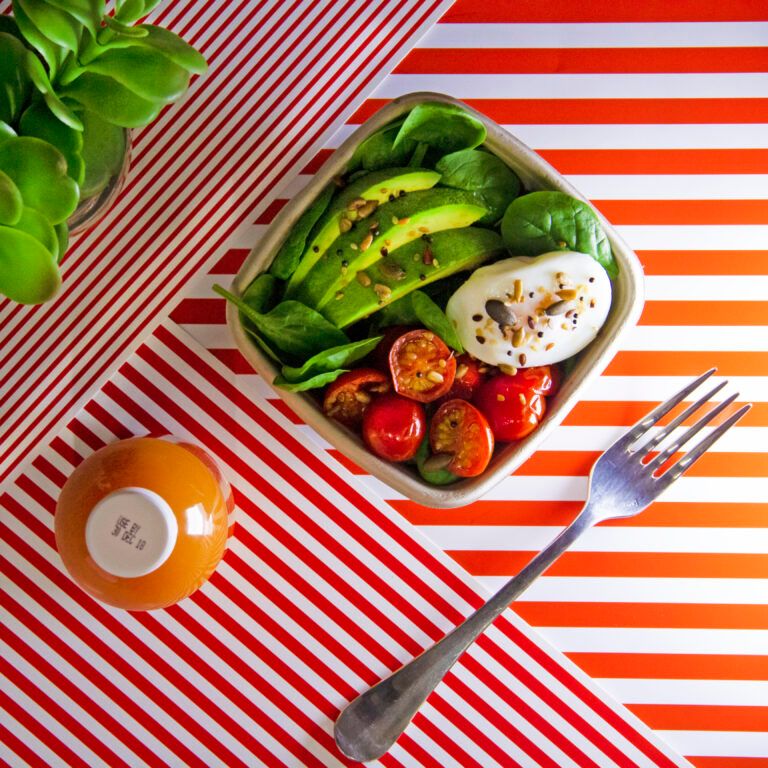 HOLY COW, SWAPPING IS FREE.
We don't believe it should cost you any more to go plant-powered, so we're one of the only food-to-go shops around to offer dairy-free alternatives in any menu dish at no extra cost to you.
So whether it's for coffee, porridge or iced drinks, we've got you covered at Coco.
Our future PLans
Continue to be a leader in vegan innovation to encourage more customers to go pro-plant power with tasty veggie and vegan meals.
Annual Veganuary menu
RESPONSIBLE PRODUCT SOURCING
We're committed to bringing our customers the best quality ingredients, as well as reducing environmental impact through responsible sourcing.
All of our suppliers have BRC accreditation or equivalent, to ensure the highest standards of food safety.
Local sourcing 
The two main products (80% of our volume) we serve are coffee and pasta, both of which are sourced from within the UK to enable us to reduce our carboon footprint.
Our coffee is sourced and roasted locally in Hackney, London through Allpress. Our pasta and pasta sauces are also all manufactured here in the UK on home turf.
Health
We're passionate about delicious food and ensuring our menus can be enjoyed as part of a healthy, balanced diet.
We like to give our customers the choice of lighter options such as soups <250kcals, salads <300kcals, pasta <500kcals, and low-carb, high-protein dishes.
We're proud of our animal welfare programs and the journey we are on to improve animal care.
Consistent with our history of listening to customers and animal advocacy organisations and in addition to our own initiatives, Coco di Mama is committed to exclusively providing products that meet the standards set out in the Better Chicken Commitment/European Broiler Ask throughout our entire European Operations by 2026.
1. Comply with all EU animal welfare laws and regulations, regardless of the country of production.
2. Implement a maximum stocking density of 30kg/m2 or less. Thinning is discouraged and if practiced must be limited to one thin per flock.
3. Adopt breeds that demonstrate higher welfare outcomes: either the following breeds, Hubbard JA757, 787, 957, or 987, Rambler Ranger, Ranger Classic, and Ranger Gold, or others that meet the criteria of the RSPCA Broiler Breed Welfare Assessment Protocol.
4. Meet improved environmental standards including:
At least 50 lux of light, including natural light.
At least two metres of usable perch space, and two pecking substrates, per 1,000 birds.
On air quality, at least the requirements of Annex 2.3 of the EU broiler directive, regardless of stocking density.
No cages or multi-tier systems.
5. Adopt controlled atmospheric stunning using inert gas or multi-phase systems, or effective electrical stunning without live inversion.
6. Demonstrate compliance with the above standards via third-party auditing and annual public reporting on progress towards this commitment.
Coco di Mama remains committed to raising animal welfare standards, and is proud to be the first group (within Azzurri) in the UK and Europe to commit to bringing these important changes to fruition.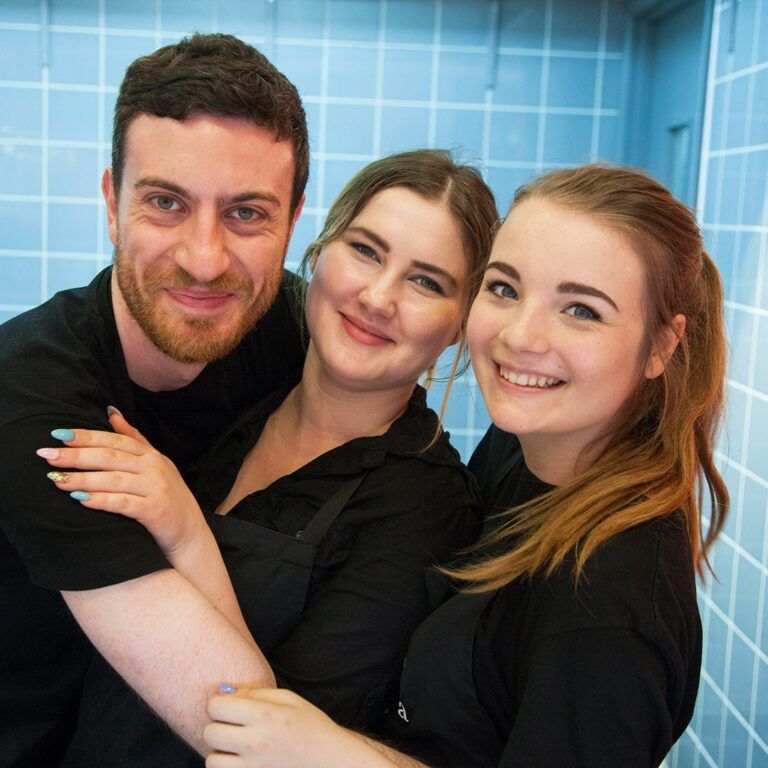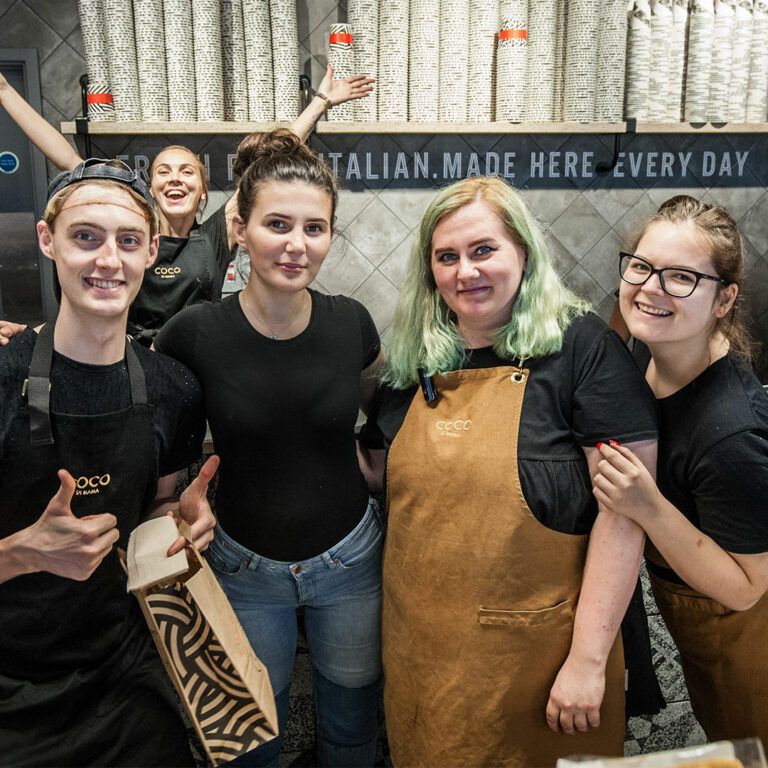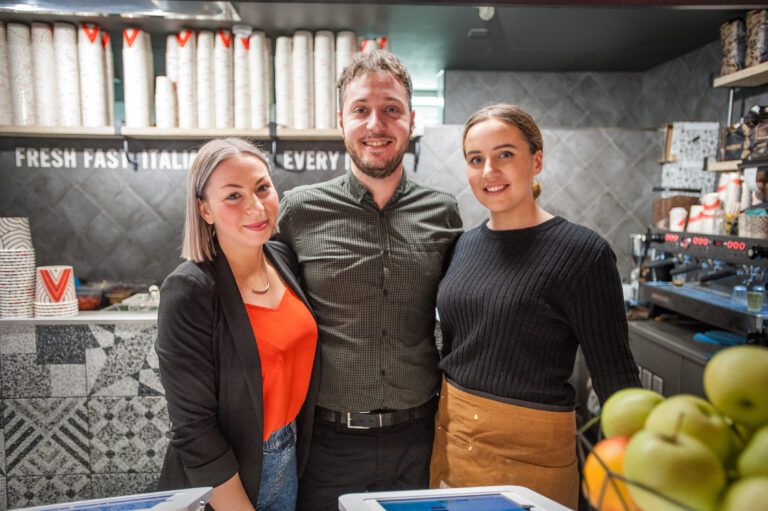 People often refer to working at Coco di Mama like a large (lively) family.
We are a living wage employer (in fact we're above living wage) and offer generous employee benefits, including a free meals policy to all staff and employee assistance programmes. We offer flexible working contracts which suit our employees. Our strong training and development plan has meant that many of our general managers, operations managers and our Head of Operations have worked their way up through internal promotions within the company.
We are a very diverse company, with employees from across the globe, and a proud LGBTQ community. Our median gender pay gap across the Azzurri group is 0.1% which is way ahead of the industry average of 3.8%.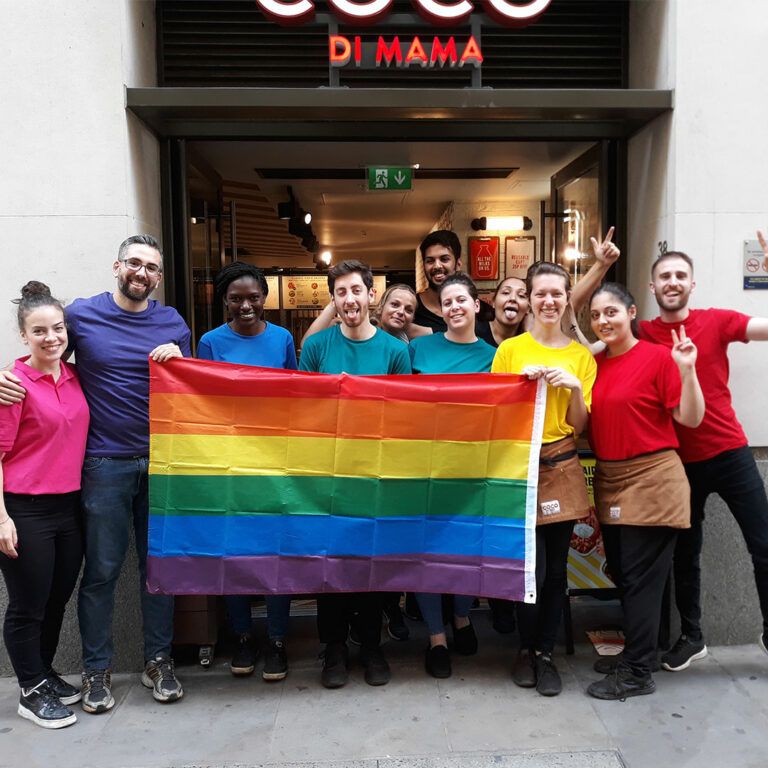 We are proud to have a long-standing charity partnership with The Felix Project, the UK food charity improving sustainability by rescuing edible food waste & delivering it free of charge to vulnerable people suffering food poverty in London.
Ways in which we support The Felix Project through a year-round partnership:
Donating our surplus end of day food waste to The Felix Project
Over the Christmas period, we donate the profits from all our mince pie sales to the charity.
Coco di Mama employees have taken part in the Big Half Marathon to fundraise for the Felix Project.
During Summer 2021, we also teamed up with LGBTQ+ focused charity, Not A Phase, whereby 10p from every sale of our Not A Phase bundle was donated to their cause. In as little as a month, our customers helped raise £1000 for the charity, which went towards funding private gym sessions and self-defense classes for the UK trans+ community. This year, we increased the contribution to 50p per bundle sold to help fund safe spaces for Trans+ individuals.
For more information, or to get in touch about a partnership please contact sara@cocodimama.co.uk.